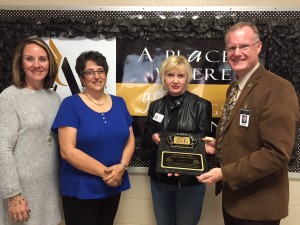 Left to Right: AMS Principal Melanie Barkley, KALB Executive Coordinator Lynne Hart, Clean Campus committee member Debra Porter, and Asst. Principal Chris Pennington
Athens Middle School has come a long way since this program began many years ago. The school was found to have plenty of trash receptacles available and was free of visible litter. The Eagle Club collects recyclables from the classrooms and sorts them in the main recycling area to prepare for pickup by the Athens-Limestone Recycling Center. Assistant Principal Chris Pennington was proud to show us the outside recycling collection area which was very clean and organized. The school also provides a student trash patrol that cleans up the campus after sporting events. There have been many improvements made in the appearance of the school, some of which are evident as you approach the main entrance.
West Limestone High School
L to R: KALB Executive Coordinator Lynne Hart, WLHS Principal charlotte Craig, teacher and recycling coordinator Stanley Hand, and Clean Campus committee member Patsy Gooch
During the Clean Campus inspection, the West Limestone campus was found to be well groomed and there was no sign of visible litter. Trash receptacles were readily available and the recycling program is outstanding. A group of students gather recycling bins from the classroom and sort the materials at the main recycling station to prepare for pickup by the Athens-Limestone Recycling Center. FFA students maintain a vegetable garden and the produce is distributed by the students. This school also maintains an outdoor classroom and garden, which includes butterfly bushes and stepping stones.